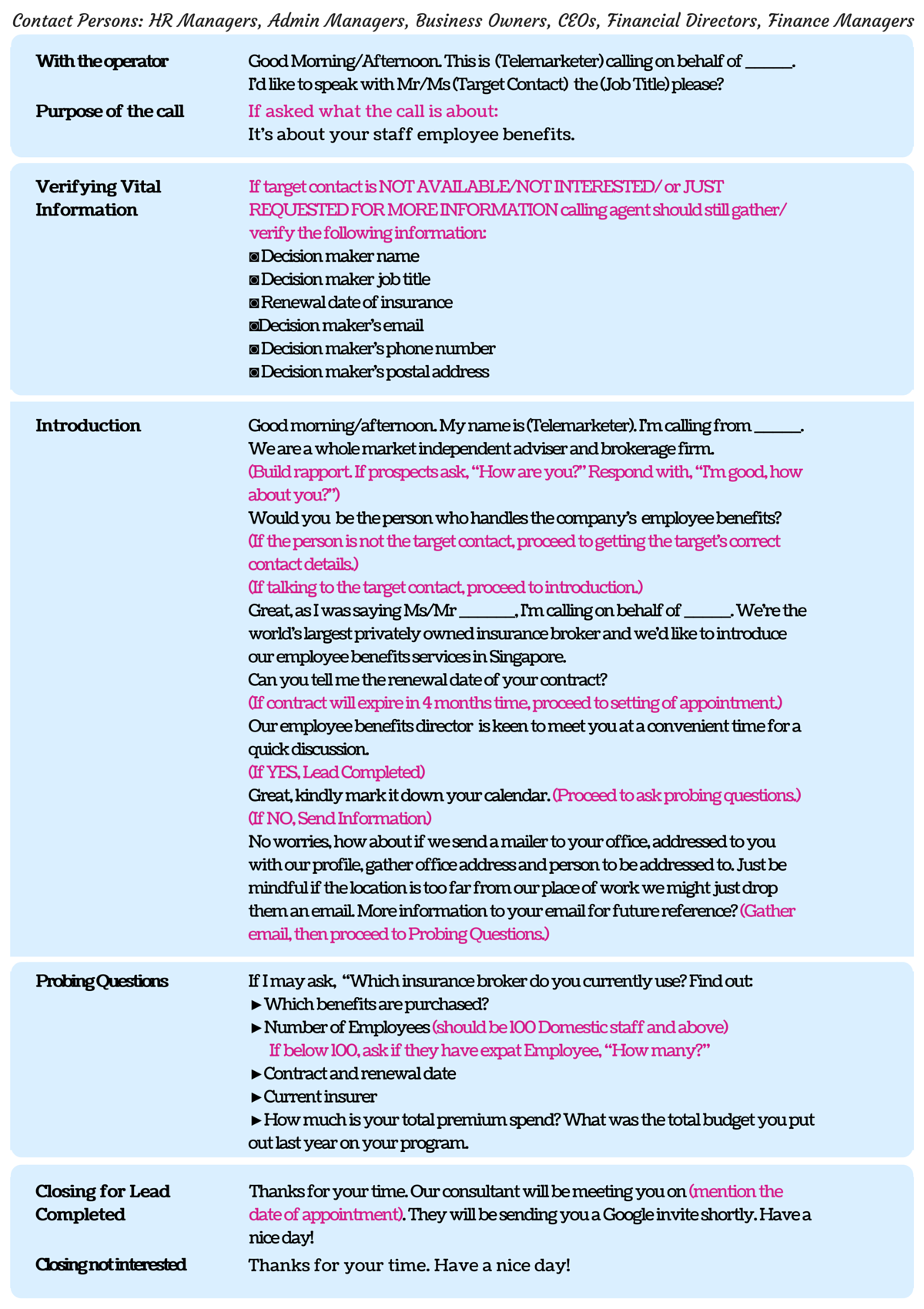 Cold calling scripts are proven to work in any market and for all products or services.
Asking salespeople and appointment setters how they start to create a new cold calling script, I find that they all do the same thing. They all begin writing what they want to say. Here's a better method, one that makes it easy to create a new sales appointment template.
It takes just a few steps to create a new phone call with clear goals and direction at every point. It doesn't contain redundant or unnecessary phrases. You can also choose the words that you use to make it more friendly or formal to meet your prospects, or specific to your products and services.
Follow this sales training and you will be able to create a new, effective introduction stage for sales appointments calls.
Step 1. Step 1.
It is important to first identify the stages you would like in your sales appointment call. These can vary depending on the products and markets, but I have a basic structure that has been effective for many years.
Stages of Sales Appointment
Introduction: This is where you introduce yourself to the prospect and explain why you are calling.
Qualifying Questions Ask questions to find out if the prospect is a good match for you.
Signing an agreement: This is where you win the prospect's consent to meet with your company.
This is the structure of a sales appointment phone call. This structure of stages is a better way to start a cold calling script than starting with the words you intend to use.
It is clear that the goal of the Introduction Stage was to help your prospect move forward with you to Qualifying Stage.
You know that once you reach the Qualifying Stage, your goal is to make a decision if you wish to meet the prospect and then to negotiate a meeting.
You now have the general sales appointment structure. Now, you can add the components that make up each stage.
Step 2. Step 2.
We now have direction for our introduction stage of cold calling script.
We want to now add the parts of the Introduction Stage that will help the prospect move in the right direction. Once we have that framework, we can wrap our words around it.
Here is a framework I use to create sales appointments Introduction Stages.
The Introduction Stage
Introduce yourself.
Introduce your company, and/or your product/service.
Associating a wide range of potential benefits to your company/product.
Tell the prospect why they are calling. Give them a benefit from listening to your call.
Here you have it. A brief introduction that offers two benefits to encourage prospects to listen and to move forward to the next stage. The Introduction Stage ends with a unique technique that moves the prospect to the Qualifying Questions Stage. I'll show you how it works later.
Step 3. Step 3.
As you can see, the framework shows that you have the words you want and the actions you want for each stage of the Introduction Stage. This framework is now ready for you to add your own words. Simply look at each section and decide how you want to write it.
You can personalize your appointment script to meet your prospects' needs and to reflect your company's products and services.
It is possible to use words, phrases and a tone of voice that makes it casual and friendly. You should project a professional, businesslike image when contacting prospects.
You can use the Introduction framework for any product, service, or prospect. Because the words you choose will influence the outcome of your cold call creation process, the introduction framework can be used with any product. You now have the basics of the process and can use it for all stages of an appointment.